Chopped strand mat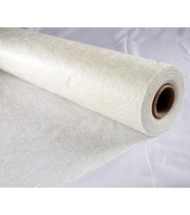 Welcome to our fiberglass emulsion fabric category, where strength meets versatility. Explore the range of premium emulsion fabrics available in four different weights: 100 g/m², 300 g/m², 450 g/m² and 600 g/m². Engineered for excellence, this fabric is engineered to enhance the structural integrity of your projects with unwavering strength and durability.
100 g/m² fiberglass emulsion mat (first layer application):
Start your projects with precision and power. Our 100g/m² emulsion mat is specially designed to be used as a first layer, providing the perfect base for subsequent layers. It provides smooth actuation of laminates and composite components, creating the basis for reliable reinforcement.
300 g/m² fiberglass emulsion mat:
Perfect for projects that require a lightweight yet durable fixture solution. Our 300 g/m² emulsion mat is ideal for applications where balance and flexibility are key. Whether you're working with laminates or composites, this mat provides a solid foundation for your creations.
450 g/m² fiberglass emulsion mat:
Achieve greater durability without compromising ease of use. Our 450 g/m² emulsion mat provides excellent structural support, making it a versatile choice for a variety of applications. From ship repairs to car upgrades, this mat is a reliable partner for projects that require reliable reinforcement.
600 g/m² fiberglass emulsion mat:
If your projects require superior strength and rigidity, our 600 g/m² emulsion mat is the answer. It is designed to provide heavy weight support and is the most suitable solution for critical applications. Whether building industrial components or reinforcing large-scale structures, this mat provides unmatched durability.
Explore our collection of fiberglass emulsion hair and give your creations the power they deserve. Your success starts with the right materials and we are here to help you achieve unmatched structural integrity with our diverse range of fibreglass emulsion mats.
Chopped strand mat
fiberglass emulsion mat
Chopped strand mat
Showing 1 to 4 of 4 (1 Pages)