Resins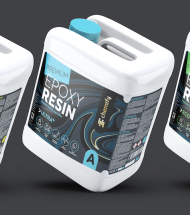 Explore our wide range of resins - polyester, epoxy and vinyl ester at composite24.eu. Whether you are a professional or a passionate creator, our selection of resins has the perfect solution for your composites and casting needs.
Polyester Resins: Discover the versatility of polyester resins, ideal for general lamination applications. Our range includes UV stabilized resins for outdoor durability and resistance to other elements. Produce with confidence and peace of mind.
Epoxies: Achieve precision and perfection with our epoxies. We offer specialized casting resins for crystal clear casting projects, ensuring flawless results. When it comes to general purpose lamination, our epoxies provide unmatched durability and reliability.
Vinyl Ester Resins: Explore the world of vinyl ester resins known for their high performance properties.
At composite24.eu, we offer UV-stabilized vinyl ester resins that are perfect for demanding applications, promising longevity and durability.We have everything from UV stability to crystal clear clarity and versatile laminating needs. Trust composite24.eu as your one-stop source for quality resins. Elevate your projects and build with confidence. Buy now for premium resins We offer high-quality epoxy, vinylester and polyester resins for fabric reinforcement, casting of various parts, sculptures and other processes. With us, you will find various types of resins at particularly favorable prices!
Resins
Epoxy resins | Polyester resins
Vinylester resins
Showing 1 to 25 of 25 (1 Pages)