Blue Gelcoat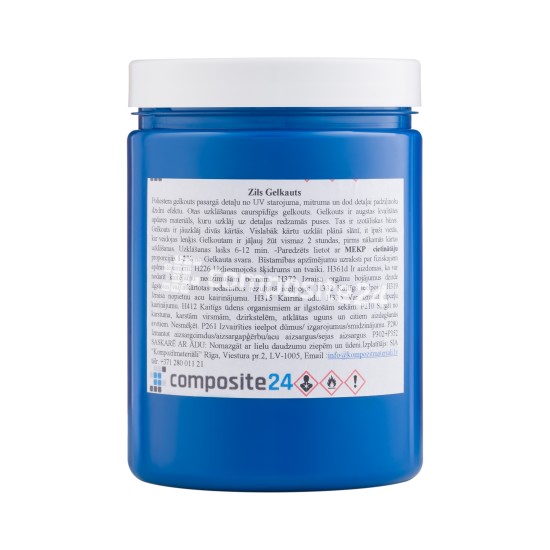 New
Blue Gelcoat
Upgrade your project with our premium Black Polyester Gelcoat. This versatile gelcoat offers a sleek, glossy finish that not only enhances the appearance of your surfaces but also provides excellent protection against the elements. Perfect for a wide range of applications, from boat hulls to automotive parts, our Black Polyester Gelcoat is easy to apply and delivers a durable, long-lasting finish. Transform your creations with the stunning look and lasting quality of black gelcoat. Order now and experience the difference for yourself!

Hand lay-up Blue gelcoat intended to use with polyester and vinilester resins. Gelcoat is a material used to provide a high-quality finish on the visible surface of a fibre reinforced composite material. It has an ISO base. Provides good hydrolisis resistance and UV resistance.
Gelcoat needs to be applied in 2 layers. It is best for the layers to be thin, avoid thick layers especially in angles. Gelcoat must cure for 2 hours before applying another layer.
Gelcoat gel time 6 - 10 min.
Proportions 100 : 2 MEKP hardener
After the final layer, the curing time is 24h.
*Price shown for 1kg resin with hardener
Blue Gelcoat
Blue gelcoat with UV
POLIMAL gelcoat blue
Stock:

In Stock

Model:

GELZi

Weight:

1.10kg

Dimensions:

10.00cm x 10.00cm x 20.00cm

SKU:

Blue Gelcoat

MPN:

Blue Gelcoat
Ex Tax: 9.00€
2 or more 6.90€
3 or more 6.53€